Celebrities
I have to work with like-minded people, says Nana Patekar
Written by Alaka Sahani | Published: February 21, 2018 11:13 pm Nana Patekar today is selective about the projects he takes up but when he is on the sets, one needs to answer the queries he has. (File Photo)
Once Nana Patekar comes on board a film project, he pores over its script, painstakingly writes it down, including dialogues of the entire cast, much ahead of its filming. This exercise, the veteran actor believes, helps him internalise the movie's content and be more focused when on the sets. "It's important for me to go over the script. There should not be any differences over it on the sets. There I want to concentrate on my performance," says Patekar, whose Marathi movie Aapla Manus (Our Man) directed by Satish Rajwade released to mixed reviews recently.
The film is based on Vivek Bele's popular Marathi play Katkon Trikon which Patekar found compelling. When he expressed his desire to be a part of a screen adaptation of the thriller-cum-family drama to Rajwade, Patekar discovered that the director held the rights. "Today, I won't make a film where the viewers won't carry something home when they leave the theatre," says Patekar when we meet him at a Juhu hotel.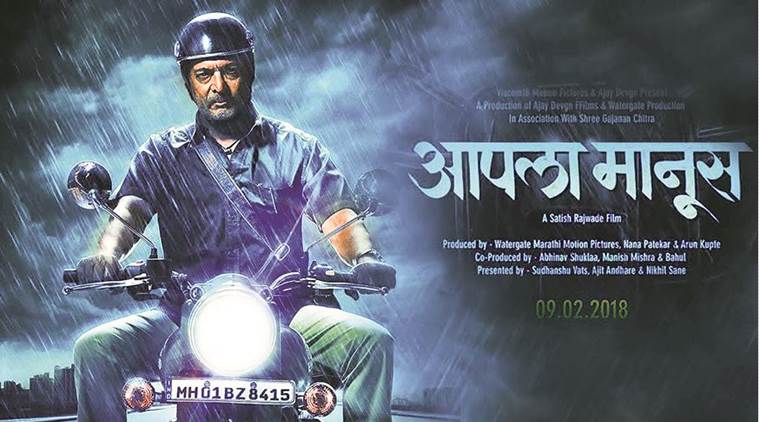 The poster of his latest Marathi film Aapla Manus.
According to Rajwade, Patekar today is selective about the projects he takes up but when he is on the sets, one needs to answer the queries he has. "An integral part of Patekar's process is to have clarity regarding the film's approach, its shot divisions and other details before the filming begins," says Rajwade. So, in case of Aapla Manus, they started working on the script six months prior to the shoot and tried to address other production-related issues.
Bele's play, the Gujarati version of which is called Dear Father and features Paresh Rawal in the lead role, will soon be adapted as a Hindi film. Rawal is going to reprise the role in the screen version which will be directed by Ashutosh Gowarikar. Patekar, however, was always clear that "the soul of this story" was in Marathi. "The budget for Aapla Manus is like any other Hindi film," says Patekar, who co-produced the film with Ajay Devgn. While writing down the script, he even added a layer to his character by incorporating a rural Maharashtrian touch in his dialogues to make the character more authentic and endearing for the audience.
Regarding Patekar's stand on the kind of movies he wishes to take up, the director says that for the 68-year-old actor "cinema is a medium to express what he wishes to share with the public". Even though the movie, which also features Sumeet Raghavan and Iravati Harshe, deals with contemporary relationships and family values, the narrative is treated like a thriller.
During the conversation, Patekar makes several references to his age. He keeps repeating: "How long am I going to be there? I'm 68". Of late, he has stuck to one movie-a-year policy. "I get offers but I have to say no to them. After all, I have na-na (no no) in my name. I can't do multiple films simultaneously. Most importantly, I have to work with like-minded people," he says. According to him, no one is a star today and content is what can make or break a film. "A film won't do good business if the content is not good. What's important for me is what are you showing in a movie. Stars are like thalis. What you serve in these thalis is what matters," says the actor is known for his performances in movies such as Parinda, Krantiveer and Diksha.
Next, Patekar will be doing a historical film, set in the 1820s, with Rajwade. He is mostly tight-lipped about it but tells us that the climax is already decided. "A team of writers are working on the movie, which is going to be an expensive project," says the actor, who has been toying with the idea of directing an unusual love story for a while. However, he is still unsure about his return to direction. "Direction takes up a lot of time. I might direct this story at some point or maybe ask someone else to do it," say the actor, who entered the industry in the late 70s with movies such as Gaman (1978) and Simhasan (1979). He rates Prahar (1991), the only film he has directed, as his best. "It's my best film. Then come others. I have written and directed it, apart from acting in it. If the movie has any flaws, then I am responsible for them."
Though he has slowed down, the only way, Patekar thinks, he would retire from acting is when the public rejects him."When that happens, I would be able to live like myself. There would be a time when I would not work anymore. I would devote that time to writing or travelling," says Patekar.
For all the latest Entertainment News, download Indian Express App
© IE Online Media Services Pvt Ltd
[contf] [contfnew]
[contfnewc] [contfnewc]