Celebrities
Review of musician Susmit Sen's new single slamming colourism
Written by Suanshu Khurana | Updated: February 3, 2018 12:36 am a still from the White Karidey video
The high-pitched sound of bell metal, typically used to announce one's arrival at a temple, is paired with a drum roll to open White Karidey, the latest entrant into the sea of YouTube videos. Soon, vocalist Sudhir Rikhari begins to plead to "Goron ke naath, shweton ke paighambar, fairness creme ke swami", and croons "Humka safed shining white karidey, Hey ishwar humka bright karidey, Kuch bhi karke white karidey." ("Make us shining white, make us bright, Do whatever and make us fair).
The piece, composed by ace guitarist Susmit Sen and presented by his band Susmit Sen Chronicles, is a comment on the deep-seated colour bias in society, which is interwoven with the caste and race perceptions. In the video shot by StoryRunners and created with the help of Dextra — a collaborative platform — a man wearing a gigantic, charcoal grey paper head is seen roaming around, finding curious glances. A comment on colourism, the video was released last week.
"I had been sensitive to the topic of colour discrimination right from childhood. I thought it'd be a great idea to make people think about it. The usage of the bell is a reference to the concept of a mass movement. In Bangla, we call it the kanchar ghonta," says Sen about the song which is punctuated by his trademark guitar interludes. He adds, "I thought if we want to get people to have an opinion about it, it would be an interesting way of doing it." The song has members of Sen's band — drummer Nikhil Vasudevan (from The Ska Vengers), bassist Anirban Ghosh, tabla player Varun Gupta (of Sage and the Comets) and vocalists Amit Sharma and Rikhari build the song into its current form.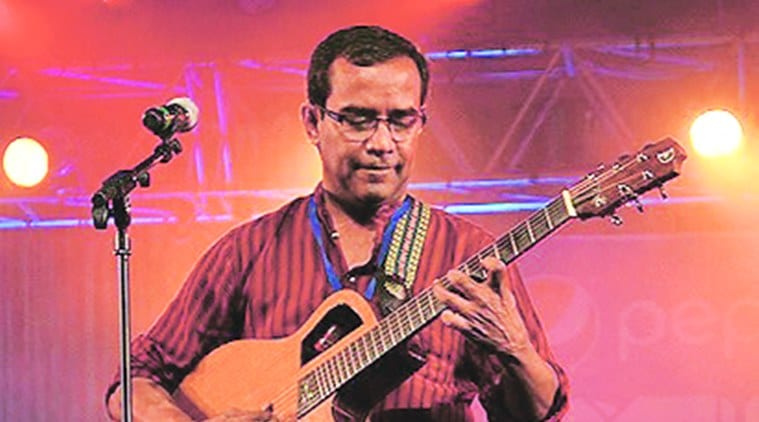 Musician Susmit Sen
It was about a year ago that Delhi-based Sen, once the pillar of contemporary fusion rock outfit Indian Ocean, and now the founder of Susmit Sen Chronicles, was contacted by documentary filmmaker Wency Mendes to compose a piece on colourism and dependence of one's social status based on the skin colour. Mendes wanted the piece as the background score for his film. Sen, who had been displeased by India's obsession with fairness, decided to find an outlet for his displeasure, "a message for the people of this country".
So, he got his friend and Bengaluru-based theatre director Abhishek Majumdar of Indian Ensemble theatre group to write a song and put that to tune with the melodic and pulsating Pahadi and Bihu influences. "This is not the style of music I normally do. But I wanted this to reach out to maximum people. Different situations demand different kinds of implementation; everything need not be cerebral," says Sen about the piece that has sarcastic lines such as "Kaalan dekhi aankh dukhe hai, bhooran dekhe naak sikode.. Oo bachpan se soch rahi hai woh banegi foreigner".
"The usage of sarcasm is imperative. If you address this directly, it is not likely to drive home the message," says Sen, who is busy reinterpreting old Bangla songs along with classical vocalist Tina Chatterjee these days. He says he has enough compositions to make an album but the times have changed and he'd be releasing more music online.
"The Iceberg Project will feature some of them," says Sen, whose name meant Indian Ocean for 23 years. After quitting the band in 2011, he has created solo albums such as Depths of the Ocean (2011) and Ocean to Ocean (2014). "That's a long period of time. It was time to do something fresh," says Sen.
For all the latest Entertainment News, download Indian Express App
[contf] [contfnew]
[contfnewc] [contfnewc]