USA Topics,
Hearing halted as victims' father lunges at Nassar
Larry Nassar's sentencing was suspended after the father of three of his victims lunged at the disgraced US doctor in court.
Randall Margraves tried to attack the disgraced doctor after two of his daughters, Madison and Lauren, had given evidence in court.
Mr Margraves asked Judge Janice Cunningham for "five minutes in a locked room with this demon", but she said she could not do that.
He revised his request to one minute, but she repeated that she could not allow it.
Mr Margraves then rushed at Nassar and had to be tackled by bailiffs in the Michigan court.
As he was handcuffed, he yelled: "I want that son of a b****.
"What if this happened to you guys?"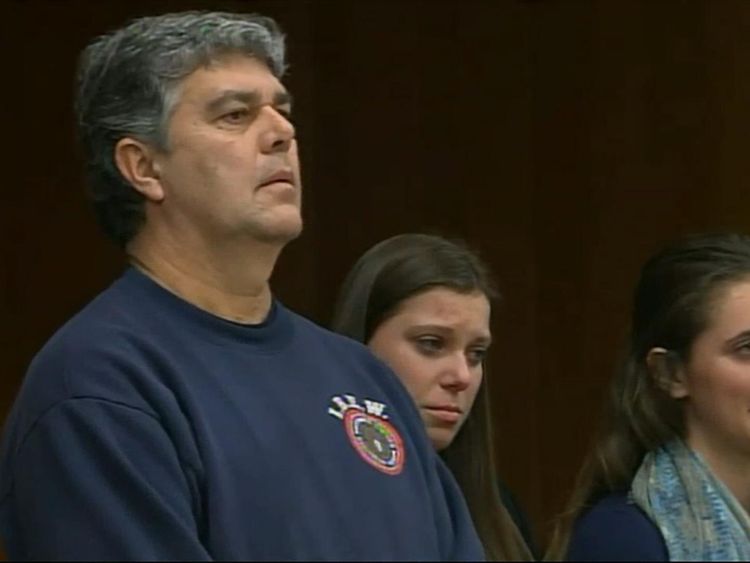 There was laughter in the courtroom after his first request, but it was quickly replaced by gasps and tears after he lunged at Nassar.
Two of his daughters gave statements to say they had been molested by Nassar and they added that their sister had been as well.
Assistant Attorney General Angela Povilaitis told families to "use your words" and that violence "is not helping your children".
:: Sentencing of Larry Nassar: Testimonies of ex-USA Gymnastics team doctor's accusers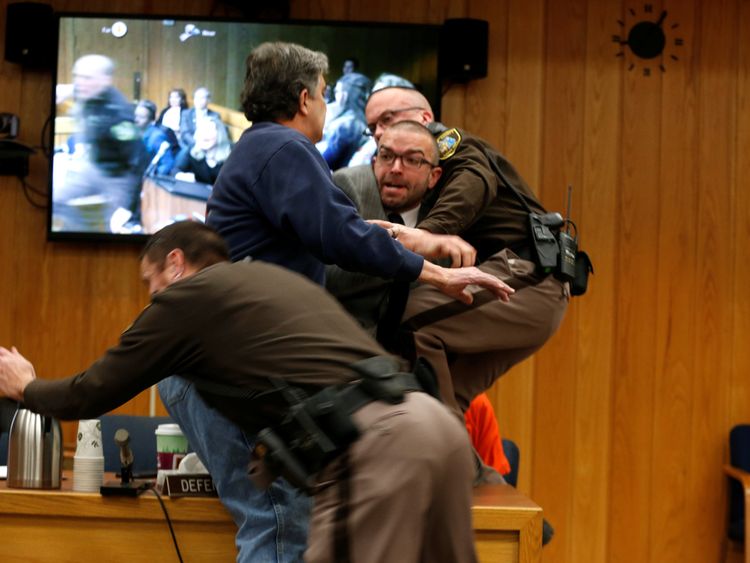 She added: "This is letting him have this power over us.
"We cannot behave like this. I understand this is a remarkable situation. But you cannot do this. This is not helping your children. This is not helping your community. This is not helping us."
After the attack, Mr Margraves returned to apologise to the court, saying he "lost control".
He will not face charges and was later released.
Nassar is facing his third and final sentencing hearing in Michigan, where he has pleaded guilty to molesting three girls while working with Twistars, an elite gymnastics club run by a former Olympian.
He will hear from around 60 of his victims during this hearing.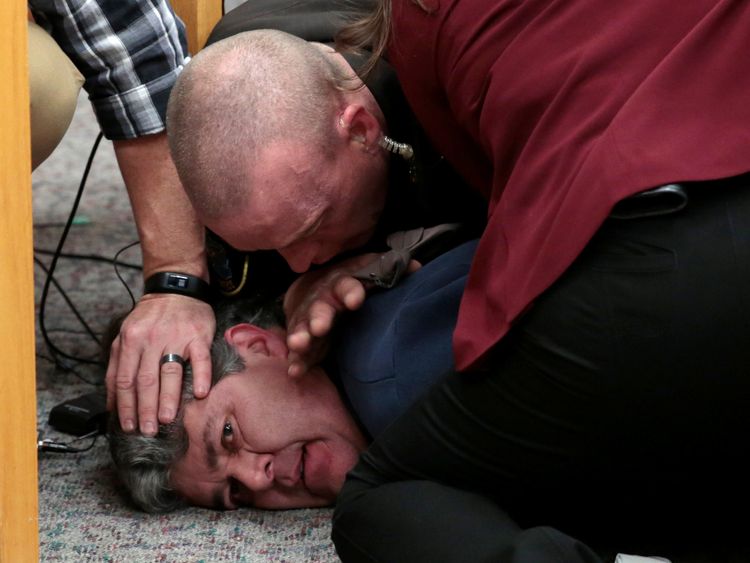 After a 25 minute break in proceedings, Judge Cunningham addressed the court by saying: "My heart started beating fast and my legs started shaking. We cannot react by using physical violence.
"I recognise that Mr Margraves had three daughters that he has had to watch go through the pain and the hurt. I can't imagine what it is like for a parent."
Nassar is already sentenced to 40 to 175 years in prison for a string of other assaults, and 60 years for child abuse images.
:: Larry Nassar's campaign of abuse is a travesty that could have been avoided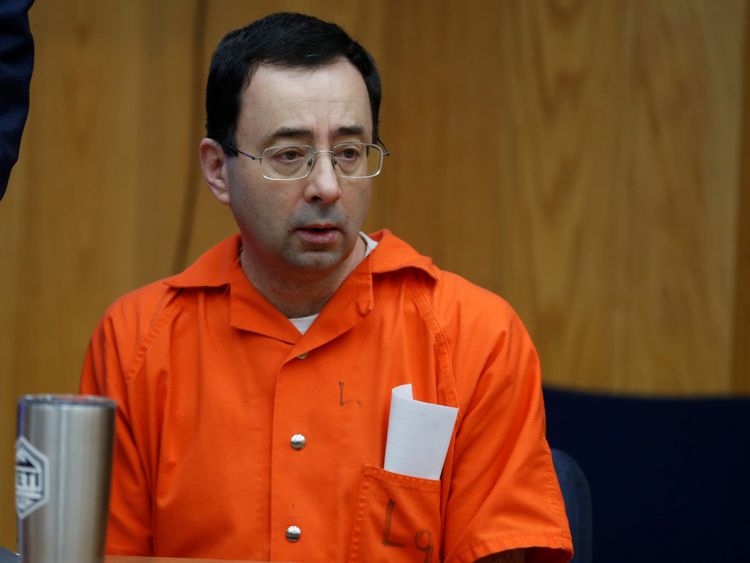 The entire board of directors at USA Gymnastics resigned in the wake of his last sentencing.
Friday's hearing started with controversy after the judge at the Michigan court had to address comments made by lawyer Shannon Smith to a radio station, in which she said she had doubts about the large numbers of people who are victims.
Nassar did not authorise the comments, and has disavowed them according to Judge Cunningham.
Earlier this week, the judge said the total number of victims that had come forward now stood close to 265, much higher than previous estimates.
The US Olympics Committee (USOC) announced the appointment of Ropes & Gray LLP to conduct an independent investigation into abuse athletes suffered at the hands of Nassar.
They will determine who knew what and when.
Joan McPhee and James Dowden, both partners of the firm who are former federal prosecutors, will lead the team.
Susanne Lyons, the independent director of the USOC, said: "Ropes & Gray will have full discretion to conduct the investigation and make findings in whatever way Ms. McPhee and Mr. Dowden decide is appropriate.
More from World
"The United States Olympic Committee pledges its full support to Ropes & Gray and will provide access to relevant documents and witnesses. USA Gymnastics has confirmed that it will do the same."
A written report will be released to the public and the organisations have pledged to act on whatever actions it suggests are taken.
[contf] [contfnew]
[contfnewc] [contfnewc]