Celebrities
Rajinikanth-Kamal Haasan rivalry continues; first in movies, now in politics
Written by Manoj Kumar R | Bengaluru | Published: December 31, 2017 1:14 pm The rivalry between Kamal Haasan and Rajinikanth goes on
Finally, actor Rajinikanth lowered his guard and confirmed that his entry into politics is "definite"; saying it was the "need of the time". On the last day of his fan meet programme at Raghavendra Mandapam in Chennai, he made the big announcement that will change the dynamics of politics in Tamil Nadu forever.
Rajinikanth's political entry played out like a script right out of one of his movies. There was years of build-up to this moment. And the political situation in Tamil Nadu is volatile due to the power vacuum left behind by the passing of J Jayalalithaa. Now more than ever, people in the state need a stable political party and a leader that they can follow. Amid growing desperation and anticipation, Rajinikanth announced that he will float his own political party with the promise of fixing the broken system.
"I welcome brother Rajini's sense of social responsibility and political entry," wrote Kamal Haasan on Twitter, soon after his junior in the film industry announced his political debut.
While the Thalaivar took his own time to take the plunge, Kamal beat him to it. It won't be wrong to say that Kamal blindsided everyone by becoming active in politics. And he also wasted no time, in announcing his intentions to contest the next state assembly elections. The political world, people and the media, however, had to wait more than two decades for the politician Rajinikanth to reveal himself.
The iconic Rajinikanth-Kamal Haasan rivalry will continue now in the political realm too.
Kamal once suggested that he spotted a rival in Rajinikanth the moment he saw him at the office of legendary director K. Balachander.
After getting trained at the film institute in Madras (now Chennai), Rajinikanth went to Balachander seeking a chance to act in movies. Kamal, who was already a star at the time, was afraid that this novice may bag an interesting role in his mentor Balachander's next film. "I came to know that Balachander sir was auditioning actors for his next film. I was concerned that somebody else may get a good role. When I ran to his office, I heard a few have come from film institutes. A person of Pune film institute was also there. For some reasons, he did not impress Balachander," Kamal said speaking at a film event earlier.
"I looked through the small window on the door at Balachander sir's office. There was one person. I asked whether he was also from Pune institute. Before entering the office he said he was from Madras institute. That person was Rajinikanth," Kamal recalled the first time he saw Rajinikanth. "Balachander sir liked him and I was worried the good role will go to him."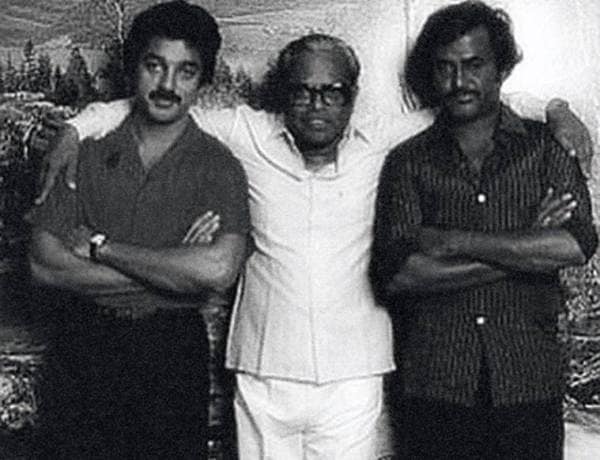 The late legendary director had to calm Kamal's concerns by reminding him that he was the hero of the film and Rajinikanth was just getting a minor role. It seems like Kamal subconsciously knew right at the moment that Rajinikanth would go on to become his major rival in the film industry. And now in politics.
Balachander rechristened Shivaji Rao Gaekwad as Rajinikanth and launched his acting career with Apoorva Raagangal in 1975. Rajinikanth played minor roles, including villains and mostly second fiddle to Kamal, before he began doing solo movies as a lead actor. He started playing the leading man with Bairavi in 1978 and the rest, as they say, is history.
Interestingly, on Saturday, Rajinikanth shared the other half of the story as to what happened after he entered Balachander's office.
"When I met Balachander I told him I didn't know Tamil. So he asked me to perform for him in Kannada. After I performed before him, he was sort of went into a pensive mood. I was nervous thinking that he didn't like it and he's going to scold me. But, he told me that he will cast me in his next three films and will take me to new heights," Rajinikanth said.
After doing many movies, Rajinikanth and Kamal decided not to act together in films anymore. But, they remain close friends off-screen to date.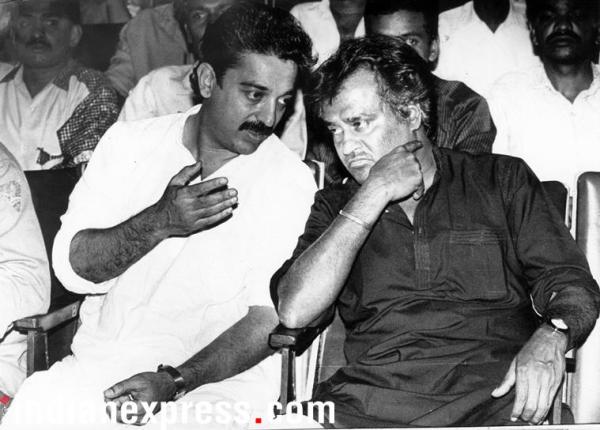 Film star Kamal Hassan and Rajnikanth share a point at Nadigar Sangham meeting. Express archive photo
Rajinikanth and Kamal went on to become cornerstones of Indian cinema. They approached the art of acting in different ways. Kamal became a case study for methodical acting, Rajinikanth showed everyone how to make mass commercial blockbusters.
The differences between them do not stop there. Kamal is a rationalist and Rajinikanth is a hard-core believer in God. Kamal has made it abundantly clear that "saffron is not my" colour. Rajinikanth has repeatedly demonstrated his liking to the BJP. Kamal appreciated Prime Minister Narendra Modi on the demonetisation but was also quick to criticise him when economic experts suggested it was a failure. Kamal even issued an apology for supporting demonetisation without understanding it fully. Rajinikanth was quick to praise PM Modi for scrapping the high-value value notes but did not react after it was reported that the government botched up the scheme. The list of differences between Rajinikanth and Kamal goes on.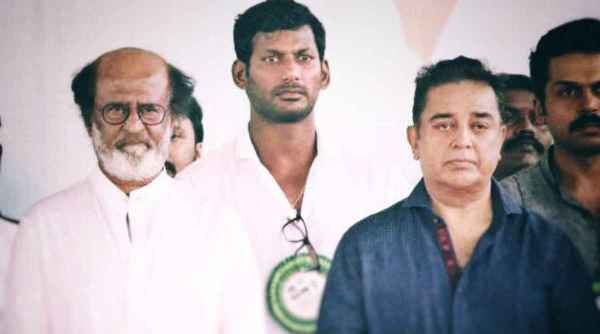 While the approach of both these stars towards various issues are different, they share a common goal. Kamal and Rajinikanth have promised to deliver a clean and efficient government, if voted to power, with people's welfare being the priority. They also have promised that they won't fall into the vicious power struggle and engage in dirty politics to stay in the position of power.
"You've given me money and fame, thousand times more than what I asked for. So I'm not coming to politics for them. I don't have the desire for power also. The opportunity came to me in 1996 itself. But, I brushed it aside. I did not have a desire for power when I was 45, so will I have it when I'm 68?" Rajinikanth said addressing the fans on the last day of the year 2017.
For all the latest Entertainment News, download Indian Express App
© IE Online Media Services Pvt Ltd
[contf] [contfnew]
[contfnewc] [contfnewc]
The post Rajinikanth-Kamal Haasan rivalry continues; first in movies, now in politics appeared first on News Wire Now.