Celebrities
Rajkummar Rao: Actors should be socially responsible. I don't want to do films where I am spreading hatred
By: Express News Service | Published: December 29, 2017 12:28 am The Indian Express film critic Shubhra Gupta in conversation with actor Rajkummar Rao at the Express Adda in Mumbai last week.
This edition of Express Adda, held at Tote on the Turf in Mumbai, hosted actor Rajkummar Rao. In a discussion moderated by The Indian Express film critic Shubhra Gupta, Rao talked about being drawn to characters with many shades, censorship and creating a dialogue, and why it's a good time to be in films.
On starting out
I was born and raised in Gurgaon. I grew up in a joint family, in a typical middle-class north Indian family. I went into martial arts when I was in Class III or IV. Then dance came into my life. But we had a ritual; every weekend, the whole family would sit together and watch two or three films every night on VHS. And I was madly in love with films and that world. For some reason, I used to think as a kid that these actors are not from this planet. It's a surreal world and they must be living this amazing glamorous life but at that time I didn't think of becoming an actor. I remember watching Agneepath and crying my eyes out and sitting with my head in the pillow saying, 'God please Amitabh Bachchan ko zinda kar do. Woh mar nahi sakta, woh Amitabh Bachchan hai. So, I was a very filmi kid. I did my first play in Class XI, where I played Oedipus. I really enjoyed being someone else on stage. After Class XII, I joined Shri Ram Centre. From Class XI, my life just changed. My focus was only on acting. For three years, I was totally into it. There was never a plan B.
Also Read | Rajkummar Rao: It is for govt to take a stand on censorship
On his FTII days
I got through the acting course at FTII (Film and Television Institute of India, Pune). FTII absolutely changed my life. I started watching movies of Daniel Day Lewis, Al Pacino, Robert De Niro and others. Before that acting was about looking good and saying your lines. After FTII, it became very meditative. Whatever I am today, I would give major credit to FTII and actually to Rajat Kapoor. He once visited FTII and a classmate and I acted for him. I was doing something and he was like, 'Why are you working so hard. Just get up, go there, take your glass, come back. It's very simple.' And that just changed it for me. I (realised I) don't have to put in so much effort. That day, I tasted real acting and said I am going to keep my characters very real so that the effort can't be seen.
[contfnewc]
On getting his break in Love Sex Aur Dhoka
I came to Mumbai in 2008 after passing out from FTII. You know the usual struggle but I don't have too many emotional stories to share that I slept on footpaths and all. That didn't happen; my family really supported me. In 2010, I was visiting FTII and I saw an ad that said Dibakar Banerjee is planning his first digital film and he wants to cast newcomers. I was a huge Dibakar fan and I knew his characters were mostly from Delhi. I thought this was my golden opportunity, I can't let it go. I kept calling up the casting director Atul Mongia till he asked me to meet his assistant, Neha
Chauhan. I gave a test which Banerjee liked but he asked me to lose some weight. I used to eat a lot of gulab jamuns. I started running since that day and I am still running. After a few rounds of auditions, I got that one phone call that everyone in the city was waiting for. That changed my life. And since LSD, I am still working. In Ragini MMS, I was hesitant to play a character with grey shades. Since Ekta (producer Ekta Kapoor) was keen to cast me, I thought of taking it up as a challenge because I love the horror genre.
On Kai Po Che! and being socially responsible
Kai Po Che! was a big film for me. But I feel as an actor, as an artist, you should be socially responsible. I really don't want to do films where I am spreading hatred or something that if I do probably 10 other boys from small towns will follow me.
I am aware of my social responsibility.
Riots were a part of Kai Po Che!, but it was not only about riots, it was about friendship, these three characters and their lives, and cricket.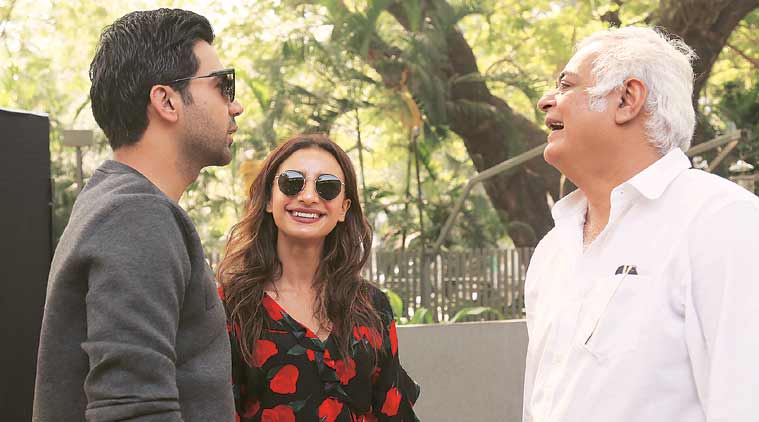 Rajkummar Rao and Patralekha with Hansal Mehta at the venue
On working with Hansal Mehta
I am grateful to god that I got to meet Hansal sir and I thank Anurag (Kashyap) and Mukesh (Chhabra) who suggested my name to Hansal sir for Shahid. I still remember the day when I met him in his office. I felt an instant connect. I'm very glad I met him. More than professional, our relationship is very personal. He's like my friend, father, mentor, everything. I give a huge amount of credit for whatever I am doing today to Hansal sir.
On method acting in Trapped
I always wanted to work with Vikramaditya Motwane and when he told me about this idea of a guy stuck in an apartment in a non-functional building for almost three weeks without food, water and electricity, I was sold. I didn't plan anything for Trapped because I couldn't imagine how my body would react if I didn't eat for 7-8 days, so I had to go through the same process to see how my mind would function and how my body would react. We shot the film in sequence, so day one of shooting was actually day one in the story, and so the moment that Shaurya stops eating, I also stopped eating. I was surviving on a carrot and a cup of black coffee for almost 15-16 days. I actually wanted to stay in that flat but the team thought it wasn't safe. But if we make Trapped 2, I'm going to make sure I stay wherever we are setting the film.
Anant Goenka, Executive Director, The Indian Express, gifts a souvenir to Rajkummar Rao.
On being Newton
I thought it's a great script, it has intelligent humour and it talks about something so important. It talks about democracy, about elections, the way it functions in really remote areas and about a character Newton who is so idealistic that we don't see people like him, especially in our cinema these days. Probably earlier we used to see, but not anymore. So, I thought it was a great chance to showcase someone like Nutan Kumar (Newton) on screen, who actually doesn't have too many shades. He's a single-minded guy. As an actor, I cherish doing parts with shades, but Newton was single-minded. There was a rope and he was walking on that same rope from frame one to the last one.
On being in the right place at the right time
When I was starting out in 2010, when LSD happened, cinema was already going through change. Directors like Hansal sir, Anurag (Kashyap), Vishal (Bhardwaj), Dibakar (Banerjee) and many others, were pushing the envelope to tell different stories in different ways. Writers were writing characters, not parts for heroes. This year, especially, the kind of success that films like Bareilly Ki Barfi, Lipstick Under My Burkha and Shubh Mangal Saavdhan have seen, is a fine example. It's evidence that cinema is going through change and the audience doesn't want to see crap anymore. I don't think mediocrity will survive. Either you make full-on commercial entertainment or a sensible film. The middle way of trying to make a sensible film, but also put in entertainment won't survive. Manoj sir (Bajpayee) also tells me, 'Tu bahut lucky hai, tu bees saal pehle aaya hota toh dekhta kaise papad belne padte hain. But you are in the right place at the right time and with the right age'.
On his signature style
My trademark is my character and my performance. I keep my character in mind and perform accordingly. I am aware that people relate to my characters — I do hear from fans that they know someone like Pritam or Newton. That's my achievement. I don't like heavy dialogues because that breaks the believability of a film. If I portray reality, I have to do so in a convincing way; it's the only way the audience will connect with the character they see on screen.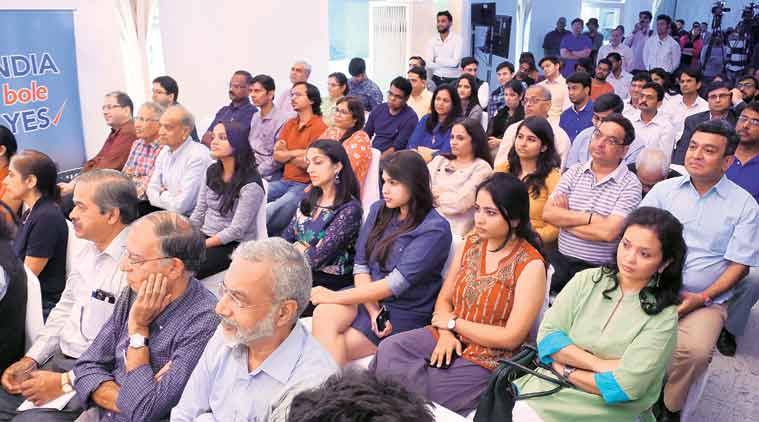 On the controversy around Padmavati
I have openly voiced my opinion on the Padmavati controversy. What's not done is not done. Everything can be resolved with dialogue. Violence isn't the answer, that's just goondagardi (hooliganism).
On censorship
It's happening a lot more now but the industry is dealing with it. We talk about it a lot more now. The trailer of Aligarh got an 'A' certificate, which was so unfair. We did what we could do but eventually, it is the government; they have to decide to take a stand. We can suggest a few things, but we're not lawmakers. The CBFC (Central Board of Film Certification) is a certification body and we are mature enough to decide what is it that we want to see or not see on screen. You can't say 'No, only watch this'. Who are we fooling? Everything is available on the internet and we're talking about it, about sex and sexual problems, murders and violent images. So what is the point in making films the victim of all that?
On playing a terrorist in Omerta
I cannot be thinking what the government will think, or what any wing or set of people will feel about the characters I play. I cannot work and deliver my best if I do. With Omerta, we'll cross that bridge once we get to the point. If people do react adversely, we will ask them to first watch the film and then talk about it.
For all the latest Entertainment News, download Indian Express App
[contf] [contfnew]
[contfnewc] [contfnewc]
The post Rajkummar Rao: Actors should be socially responsible. I don't want to do films where I am spreading hatred appeared first on News Wire Now.