Celebrities
It's unfair to put the onus of spreading awareness entirely on the film industry, says Priyanka Chopra
Written by Arushi Jain | New Delhi | Published: December 25, 2017 7:34 am Priyanka Chopra talked about the problem of income disparity and the need to empower the women. (Photo credits: APH Images)
More than just being a 'Global Icon of India', Priyanka Chopra has been playing the role of being an instrument of change in the society. The actor with a fan following across the globe has been vocal about issues surrounding girl empowerment, child education and child marriage among others. But the former Miss World and a renowned actor, who has proved her acting mettle both in the West and in India, refuses to accept that the responsibility of putting across important social messages lies only with the film industry for she believes that film industry is an entertainment business.
The Quantico actor said, "The film industry is an entertainment business. You watch films for entertainment also. Every film does not necessarily need to have a message to it. It is about fiction and stories and it's unfair to put the onus of the entire nation only on the film industry. Why not then ask the painters, authors, poets and others to spread awareness and bring a change."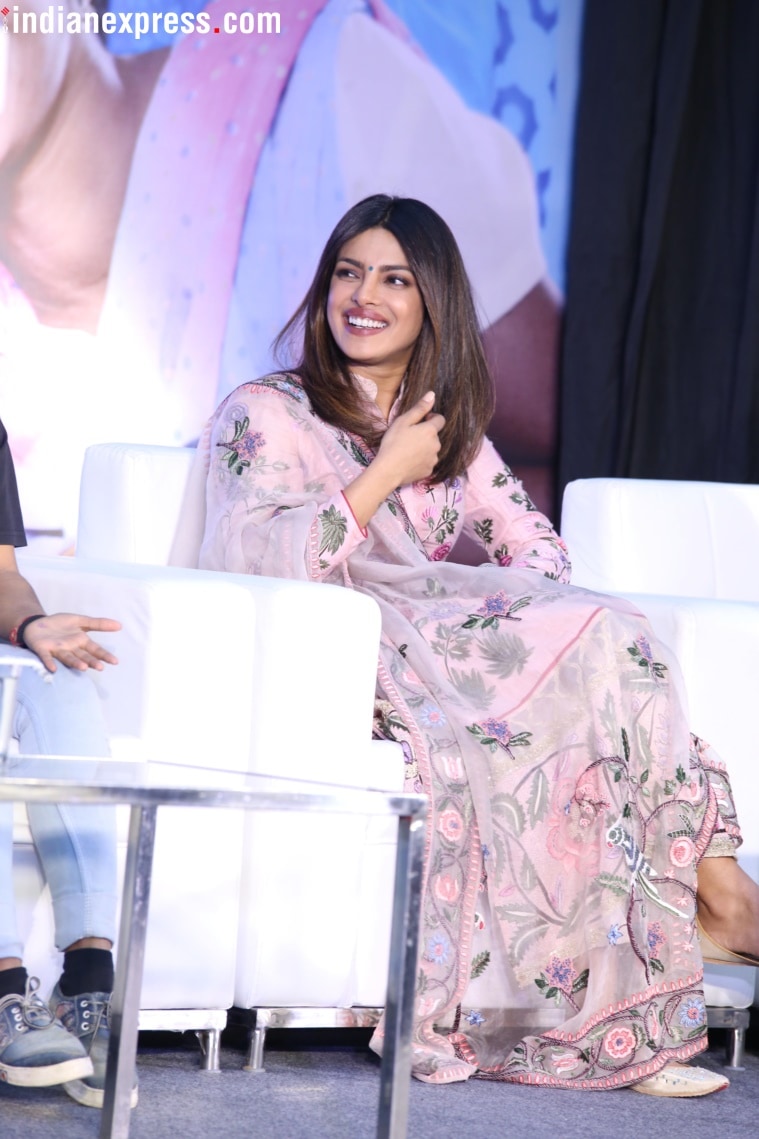 Priyanka Chopra said she will no exploit a social message in her film just for winning an award. (Photo: APH Images)
However, being an eminent name in the showbiz world and also a film producer now, Priyanka tends to bring a change by giving a platform to the new talent in her production house Purple Pebble Pictures. Also, the actor whose regional production Ventilator has won three National Awards this year says that she will never make a film with a social message just for the sake of winning an award. "As a producer, I try to tell stories in my every film. If my storyline gives me space to include some social message, I will do it but I will not exploit any issue just for winning an award. The biggest motive of my production house is to give opportunities to the new talent. The directors, musicians and actors of my films have been new people because when I was in this industry I didn't have that foothold," said Priyanka.
The Global Goodwill Ambassador of UNICEF Priyanka who was present in the national capital to speak on the topic, 'Need for empowering adolescent girls and boys' said that India is a young nation and it is the need of the hour to invest in the adolescents to have a skillful and constructive workforce in future. Also, she said every individual can contribute towards a better nation and doesn't necessarily need to be rich or in power for giving back to the society. "You don't need to be rich to make a difference. It is not about money always. You can contribute through your compassion, your passion and by spreading a word," quipped Priyanka.
Giving her own example, the actor said, "I am an instrument of change. Neither I am in government nor I am in the working body of UNICEF. But my fans have put me in a position that today my voice is heard. I am doing what can be done at an individual level."
Priyanka who made her Hollywood debut this year made it to the top 10 of Forbes list of 100 celebrities. But the list which only had one female celebrity, Priyanka in the top 10 once again initiated a debate on income disparity in the film industry. Talking about the same, the Baywatch actor said, "The problem is not only in the film industry, it is a problem of man versus woman. The film industry gets highlighted because people are reading about it. But every industry leaves women behind. Be it the CEOs or business heads, men get higher remuneration than women."
Adding to it she said, "If I talk about the Forbes list, then definitely yes I feel bad for my female colleagues. They too have worked hard and they also deserve to be there on the list. Nonetheless, in the previous years, unlike this year, there was no woman on that list. So, with my name coming up on the list is an indication of the changing trends. This time we have one female name, next year we might have more."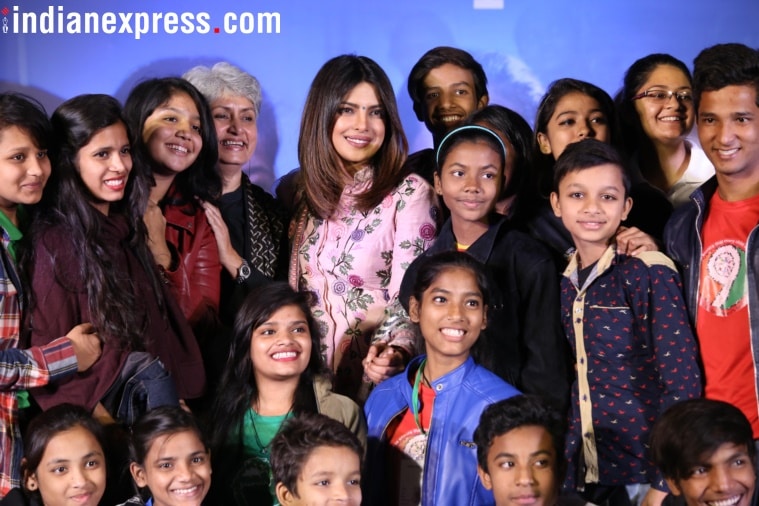 Priyanka Chopra tried to motivate people to become an instrument of change in the society. (Photo: APH Images)
On the work front, Priyanka will wrap up the shoot of the third season of the American show Quantico by April or March next year and will be producing 6-7 regional and Hindi movies in 2018.
As Priyanka was asked about feeling pressurised on maintaining a certain image in the industry which to an extent is biased towards men, she was quick to reply, "I have never felt this pressure. I have played only those characters which I liked. I have always been quite empowered. I think it's an individual thing as well."
"At the same time, pressure comes from the glamour industry because of beauty standards set by the society that if you are fair and thin, you are beautiful. This is not only done by the industry, everyone believes in these standards of beauty. If you change your mindset, the industry will change its. You stop watching, they will stop showing it. It's a vicious circle. Eventually, everything comes down to what we are doing as a part of the society," quipped Priyanka.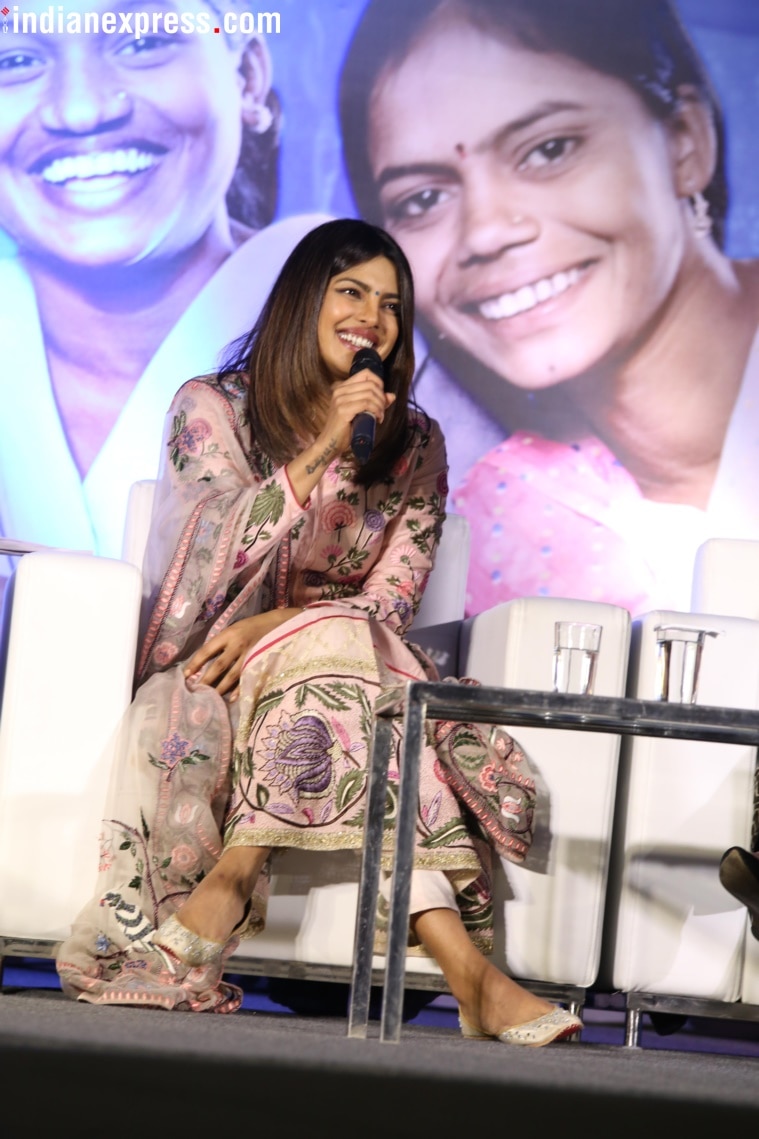 Priyanka Chopra is excited about getting a doctorate from Bareilly International University. (Photo: APH Images)
Priyanka's bent for social causes got recognised recently as Bareilly International University decided to honour her with a doctorate degree. The actor was visibly excited about it at the event she attended in New Delhi and said she is waiting to be called 'Dr. Priyanka Chopra' and even joked about it as she told the moderator of the event to address her as 'Doctor'.
For all the latest Entertainment News, download Indian Express App
© IE Online Media Services Pvt Ltd
[contf] [contfnew]
[contfnewc] [contfnewc]
The post It's unfair to put the onus of spreading awareness entirely on the film industry, says Priyanka Chopra appeared first on News Wire Now.