Celebrities
2017 might not be his most memorable year, but Nawazuddin Siddqui is ready to turn things around with Thackeray
Written by Sampada Sharma | New Delhi | Published: December 23, 2017 6:30 am Nawazuddin Siddiqui is all set to play Bal Thackeray in the upcoming biopic, Thackeray.
Nawazuddin Siddiqui is an actor par excellence and no amount of superlatives can describe this performer's capabilities. His look from the upcoming biopic, Thackeray, has already started getting a lot of appreciation and deservedly so. With his skill set, the audience can expect a stupendous performance from him. If the film will be a unbiased biopic or just another hero-worship story is something that we will know once it releases but for now, it has become one of the most anticipated films of 2018.
Over the past few years, Nawazuddin has become the poster boy for the kind of cinema that was earlier labelled as 'not-so-mainstream'. His involvement with content based projects and his stellar acting skills made him the actor that attracted mainstream filmmakers as well.
In 2017 itself, Nawazuddin appeared in six films. With performances in films like Haraamkhor and Mom, Nawazuddin impressed the audience with unique characters. The moral ambiguity of Haraamkhor's Shyam wasn't covered up with an ubrealistic justification and with Mom, the change in his appearance added a lot of mystery to his character. His work in the much delayed Monsoon Shootout was appreciated but since the film released after last year's Raman Raghav 2.0, it looked like a rehash of the same.
Nandita Das' short film In Defence of Freedom, saw the actor playing Sadat Hassan Manto and his confidence in the classroom scene convinced us that the full length feature would surely be something to look out for.
Still from Haraamkhor.
But 2017 wasn't all hunky-dory for the actor. With a film like Munna Michael, questions were raised if Nawazuddin was now going the masala commercial route. His move could also be seen as an actor expanding his horizon but his performance in the film wasn't enough to save the sinking ship. With Raees, he shared screen space with King Khan and while he delivered a good performance in the film, it was panned all across.
Babumoshai Bandookbaaz saw its own set of controversies. Nawazuddin tweeted about the inherent racism in the film industry. His point, while valid, was seen as him playing the victim card. But this controversy was quite minuscule when compared to his memoir that attracted a lot of negative attention.
Thank U 4 making me realise dat I cannot b paired along wid d fair & handsome bcz I m dark & not good looking, but I never focus on that.

— Nawazuddin Siddiqui (@Nawazuddin_S) July 17, 2017
Now the thing is, we see a lot celebrities coming out with their autobiographies and memoirs and while they are meant to be tell-all stories, the incidents are told from the subject's point of view. His revelations about his past affairs didn't please his alleged ex-girlfriends and even the explicit writing wasn't in a very good taste. The stories sounded like a teenager's fantasy and his fans questioned the plethora of information that he was bombarding them with. Nawazuddin's ardent fans appreciate him for his craft and reading about his sordid love affairs of the past was just too much information for them.
Also Read | Revelations made by Nawazuddin Siddiqui in his controversial memoir An Ordinary Life
With the release of Thackeray's teaser, it looks like Nawazuddin will surely have a better year in 2018. Apart from Thackeray, he will be seen playing Manto in Nandita Das' directorial. He will also be seen in Ritesh Batra's upcoming film, Photographer, along with the sequel to 2016's Phobia. He will also make his digital debut with Anurag Kashyap's Netflix series Sacred Games.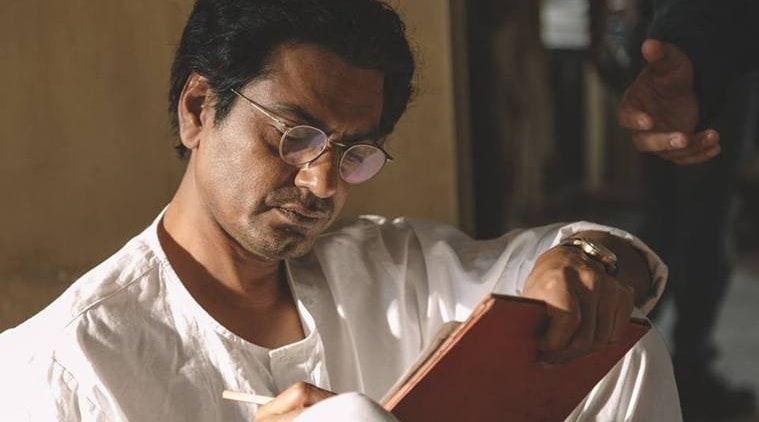 Nawazuddin Siddiqui in Manto.
Undoubtedly, Nawazuddin is a great choice for Bal Thackeray's biopic but this comes only one year after Shiv Sena's disapproval of Nawazuddin playing a Hindu character in his village's Ram-leela. The actor ultimately had to withdraw from the play because Shiv Sena created quite a furore about it. Earlier this year, the actor even uploaded a video on Twitter where he conveyed that his identity is not the religion he follows but the artist he is. The video was simple but quite effective and we would want to believe that this contributed in him landing the role.
Sixteen Point Six Six…http://t.co/MKS9gBY6R1

— Nawazuddin Siddiqui (@Nawazuddin_S) April 24, 2017
As the year comes to an end, it can be said that while Nawazuddin Siddiqui was quite visible on our social media timelines, it wasn't always for the right reasons. Here's hoping the actor has a better 2018 because in an industry where actors are judged on their gym routines, we are still cheering for the acting talent of Nawazuddin Siddiqui.
For all the latest Entertainment News, download Indian Express App
© IE Online Media Services Pvt Ltd
[contf] [contfnew]
[contfnewc] [contfnewc]
The post 2017 might not be his most memorable year, but Nawazuddin Siddqui is ready to turn things around with Thackeray appeared first on News Wire Now.